Welcome

to The Deskuzzer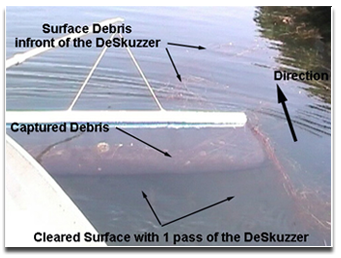 The DeSkuzzer -Lake and Pond weed Skimmer – Is Made in America by Derma-Safe Company
The Deskuzzer has been designed (Patent # 7603836B2) for the collection of the aquatic debris floating or growing on the surface of our bodies of water; the debris (Skuzz) that interferes with the beauty and enjoyment of our water fronts. This pond weed skimmer is designed to be used by one person with or without a boat. In most cases the Deskuzzer can remove 400 square feet of surface debris in about 15 minutes. This is the perfect tool for swim club's, beaches and lake front property owners to use on those days that the skuzz is interfering with your water activity.
The Deskuzzer pond weed skimmer can also remove debris that floats around your dock after a large storm moves through.  Duck Weed and filamentous algae are also easily removed with just a few throws off your swim platform or boat. Please take a look at the Deskuzzer in action by watching our YouTube videos, they will give you a look at how easy it truly is to clean up your waterfront.  If you have problems with submersed weeds, take a look at our Lake Bottom Blankets. They are 100% effective, and give you an instant swimming area after being installed. www.lakebottomblanket.com
Testimonial
I just love this contraption!!  It's lightweight enough for me to handle by myself, and I love how the duckweed just slides right out when dumping it.
When I told my husband I was thinking of buying the DeSkuzzer, he said "a De What!!??"  He thought I was nuts, but he is a beilever now!  DeSkuzz has become a household word around here!
I'm confident that I'll be able to keep the filamentatious (sp) algae under control when it starts in this summer.
Thank you for a great and AFFORDABLE product!!  I'm spreading the word here in my little corner of Iowa.
Best Wishes.
Sincerely,
Becky Matthiesen
Charles City, IA